Google Hotels + OTA Channels
It's hard to compete with online travel agencies (OTAs), global distribution systems and other
giants – even for your own guests. Online players utilize their vast reach and clever tactics to tap into every traveller's fear of missing out. When you're promoting your own property, it's easy to feel there isn't a way to convert those travellers.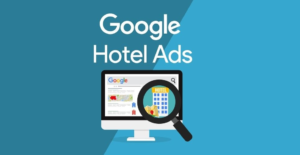 Instead of paying commissions from traditional OTA's of 15%-20%, Google Hotels connects your Guests directly with your website booking engine of choice. Leveraging all of our technical integrations, GuestSuites offers our clients the most robust, flexible, easy-to-use rate and inventory management system. These tools enable hoteliers to support a multitude of rate, inventory and distribution strategies to achieve their business goals.
Key Features
OTA Manager + Google Hotels
GuestSuites' Channel Manager integrates directly with over 20 OTAs including Google Hotels, Expedia, Booking.com, and all other affiliates. Leverage the power of these online giants, placing your property in front of new guests who are ready to book.
Easy 2-Step Bookings
Our system makes your guests booking process quick and easy, creating a hassle free experience. It only takes your guests two clicks to book their dream vacation at your lovely property.
3-way Interface
The GuestSuites Channel Manager offers a 3-way interface that connects you with your inventory, rates, and reservation management in one place. This feature helps you save time and maximize revenue through one fully integrated system.
Revenue Rate Manager
The Channel Manager comes fully equipped with our Revenue Rate manager, providing you with all of the necessary data to select room rates that will maximize your revenue. With this fully integrated system, one entry updates your rates across all platforms.
Who Uses GuestSuites OTA Channel Manager + Google Hotels?
GuestSuites Channel Manager has helped over 1,000 customers grow and strive in their unique market. By utilizing the power of OTAs, companies such as yours have grown significantly through increased exposure and reach. With the added value of our new Google Hotels Partnership, Commission free Google direct bookings via your commission free website booking engine reduces fees for our 1,000+ customers in the United States, Canada, and the Caribbean.
Key Benefits
Broaden your online distribution
Increasing your hotel's visibility across a diverse range of booking channels is one of the biggest drivers of room sales. With GuestSuites Channel Manager, your property will gain substantial exposure, increasing the total number of bookings and your revenue.

Our new Google Hotels Integration will save you commissions – directing Hotels searches to go to your website booking engineof choice.
Track and optimize
Did you know that a 100-room property with 1.5 guests per room, running at 65% occupancy generates data on more than 35,000 guests each year? With GuestSuites Channel Manager, this data will not only be stored, it will be organized and optimized into guest profiles to help you create a unique experience for each guest.
Enhance efficiency 
Updating pricing on all systems at once by utilizing the marketing and revenue management tools. You no longer have to spend time, tediously updating information across multiple platforms. GuestSuites does it all for you with one single entry.
24/7 Customer Support
With 24/7 customer support your issue is solved as soon as possible, avoiding lengthy problem solving. Spend more time with your guests, ensuring they have the best experience.
Compatibility
GuestSuites Channel Manager Connects you with over 20 OTAs including:
Google Hotels

Expedia

Booking.com

AirBnB
VRBO

Hotels.com

Travelocity

Priceline

Orbitz
Frequently Asked Questions
All
Demo
Features
Ordering
Setup
What are the minimum system requirements?
+
Microsoft Windows 7/10
IBM Personal Computer or compatible
Intel Chips or AMD equivalent (one of the following)

Pentium Dual Core
Intel Core 2
Celeron
Core I3,I5,I7

80GB Hard Drive
4GB memory
19" or 24″ display or Touch Screen
Network card
________________
Apple IOS
Macbook Pro, Macbook Air
Intel chip or AMD
80 gig
4 gig memory
19 – 24″ screen
What operating systems can I use?
+
Microsoft Windows
Ask us about iOS/Apple systems
How do I setup GuestSuites?
+
Our team at GuestSuites will assist you with the initial setup and online setup & training.  TCS will request a basic configuration form via email.  An initial installer file will be generated on the basis of the configuration for your installation.
What add-on enhancements are available to be purchased/ordered?
+
Refer to Products and Services Menu for full details on enhancement features for you new GuestSuites software.
How do I order add-on products?
+
Call us direct on (845) 358-9294 ext. 1 to place your order.   For add-on enhancements, call one of our representatives to prepare an online quote for you to process when you are ready.   This is recommended for Interface Add-On Enhancements.  Our representatives will give you a clear introduction to all software products and enhancements.
How much does it cost to purchase the software?
+
GuestTracker can be very affordable. TCS Hotel management software lists our prices so everyone knows and receives the same prices.  Please feel free to call or e-mail us to setup an online quote for you.  When you are ready to place your order, you'll have all the details and quotes.   All you need to do is approve the quote and make the payment.
What if I have trouble setting up or downloading the software?
+
If you are having trouble downloading, it can be a number of issues causing this.   Usually a Firewall or AntiVirus software is blocking the download or warning you to be careful and if you trust the software that is requesting permission to download.  Other AntiVirus software will require you to trust the source of the download.  Windows 10 will warn you as well and request permission to trust the source of the download.
What's the difference between requesting a demo vs downloading the trial?
+
Web Demo:
Trial Version:
Our trial version is the full working version of our latest hotel software release.
TCS provide demonstration data, including a few reservations and checked in guests, so you can feel the systems features from the start.
TCS will assist you with the installation of the GuestSuites demo download and setup.
Call or e-mail TCS from our Demo Page to request a download of our trial demo
Is Shift 4 payment processing secure?
+
Our GuestSuites Reservation Software is fully integrated with and connected to Shift 4 Secure Payment Processing. Shift 4 supports your Property from the time Guests make a reservation, through check-in, and during check-out. Selecting a bank or processor with the most competitive rates, then setting up a new merchant account or gateway, can be a complicated process.
GuestSuites and Shift 4 Secure Payment Processing connects all your payment services with one discounted all-in-one processing package. For more information, browse our product features.
Is GuestSuites all Cloud based and stored on a Cloud server?
+
Our cloud-based PMS Anywhere is popular but not required. Many of our Hotels run our GuestSuites on Desktop computers w/o internet. If Cloud based reservation management software is your preference, GuestSuites Cloud, allows you to access your software anytime from anywhere. GT|Cloud is a hotel reservation software that will manage and operate from multiple office locations, or for managers who need access from home or off property. For more information, browse our product features or contact us.